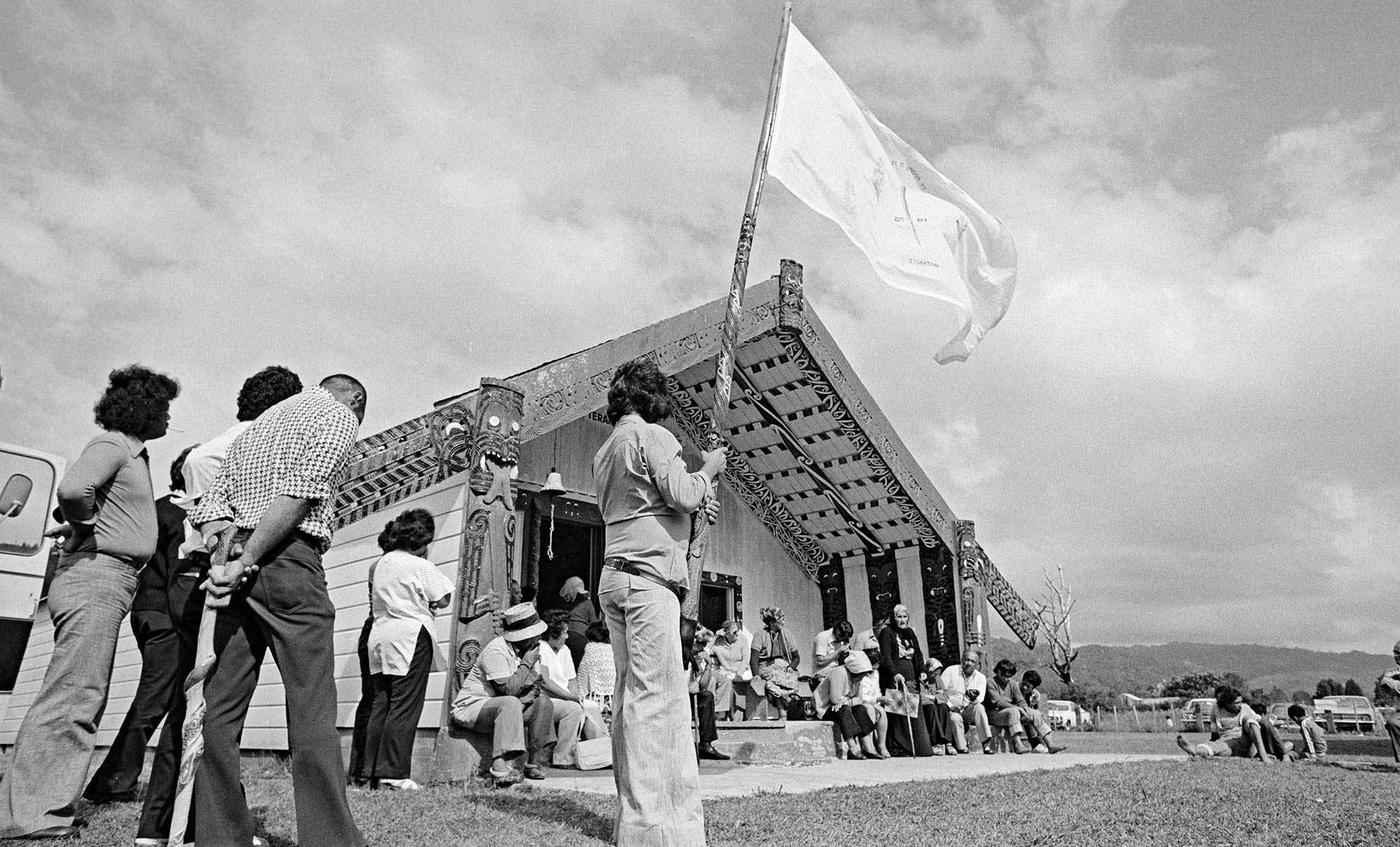 Aotearoa NZ
Pouwātū: Active Presence
Celebrating the dynamic 40-year career of tohunga whakaahua (photographer) John Miller (Ngāpuhi), Pouwātū is a statement of active presence. This exhibition is a collaboration with kaihoahoa whare (architect) Elisapeta Heta (Ngātiwai, Waikato Tainui).
Best known for his documentation of radical protest, Miller's photography documents Māori people, culture and communities from the inside. An alternative history to the dominant narrative: they document candid images of people from everyday occurrences to significant moments, at Rātana Pā, Māori Women's Welfare League hui, and gatherings of the Polynesian Panthers.
This exhibition is a celebration of transformative events in New Zealand's history with an overarching theme of sovereignty at its core. First shown at Sydney Bienniale NIRIN 2020, which emphasised indigenous art practices across the world, Pouwātū has been expanded for its first viewing on home soil and will be housed within a setting that references the architecture of the wharenui.

EXTRA EVENTS

Ockham Lecture Series: Researching the Dawn Raids: Pauline Smith
Tuesday 16 March, 6.00pm—7.00pm
Booking is required HERE. Hospitality will be provided.

In partnership with Auckland Arts Festival, Objectspace is pleased to present this Ockham Lecture by Pauline Smith
Researching the Dawn Raids will discuss the valuable insights Smith has gained during the development of her voice as a writer, producer and co-curator.

While researching her landmark publication My New Zealand Story: Dawn Raid, talanoa was an integral tool she incorporated in understanding the activities of the Polynesian Panthers and their fight for social justice. Her research also highlighted the importance of valuing material culture to truly understand the context of historical events. In this lecture she will explore how talanoa created a way to bring together the knowledge vital to the publication and how important items brought to life exhibition it inspired, The Dawn Raids - Educate to Liberate.

--

Pauline Smith is an author, educationalist and director of Mīharo Murihiku Trust in Invercargill. She is of Samoan, Tuvaluan, Scottish and Irish descent. During her time as a university lecturer she developed a passion for Pasifika histories with a special interest in the Dawn Raids and the work of the Polynesian Panthers. This was to become the backdrop for her award winning first book My New Zealand Story: Dawn Raid, (Scholastic New Zealand, 2018). Her award nominated exhibition The Dawn Raids - Educate to Liberate, toured Aotearoa in 2019 and will be on display at Studio One Toi Tū as part of the Auckland Arts Festival 2021 programme.

Camera Artists: A Panel Discussion About Real Pictures and Studio La Gonda
Saturday 20 March, 2.00pm—3.00pm
Booking is required HERE. Hospitality will be provided.

Over the past four decades, photographer John Miller's practice has contributed to a rich legacy of documentary imagery in Tāmaki Makaurau.
Beginning with Real Pictures and later, Studio La Gonda, many of Aotearoa's leading photographers have come together in these spaces to share darkrooms, technical understanding and a view to document the world around them.
To celebrate the work of this community and the stories their images tell, we invite you to hear about the experiences of these camera artists – John Miller, Mark Adams, Haru Sameshima and Ian Macdonald. This conversation will be led by programmer and researcher Hanna Scott who has recorded oral histories on members of Studio La Gonda.
Artwork

John Miller
Ruatoki Powhiri
1976